As of April 16, 2020 SARS-CoV-2 Response
We are committed to the safety and health of all our Worldwide Employees and Customers and will endeavour to follow all guidelines of Centers for Disease Control and Prevention (CDC), Public Health England and applicable local governments. During this time all our global teams will be following Work-From-Home directives and will continue to work normal business hours. We apologize for any delay in responses and appreciate your understanding.
Telefoongesprek starten
Making calls from your computer is straightforward with Xchange Operator. It will increase your productivity by saving you time and reducing the number of misdialled numbers.
---
Gebeld worden
Xchange Operator can be used to tell you who is calling before you answer the phone. Dit kan gunstig zijn op vele manieren.
Wanneer u druk bezig bent met een project kunt u selectief bepalen welke oproep u wilt beantwoorden. Ook kunt u zo de beller op een meer persoonlijke manier begroeten. Bij ontvangst van een oproep is het zeer gemakkelijk om de naam van de beller op te slaan voor toekomstig gebruik. Ook met CRM-integratie, worden de gegevens van bellers snel gezocht en weergegeven.
---
Het doorverbinden van gesprekken
Xchange Operator provides an easy method to transfer calls. Het Aanwezigheidscherm stelt de gebruiker in staat om de beschikbaarheid van hun collega's te zien en snel beslissingen nemen naar wie een gesprek door te verbinden.
Gebruikers kunnen blind doorverbinden om snel gesprekken af te handelen. Or they can easily use Go Integrator to consult with colleagues and switch between calls.
Webpagina bellen
Xchange Operator supports two separate ways of dialling from web pages.
Webpagina's kunnen worden gescand op geldige telefoonnummers, deze worden omgezet in hyperlinks om eenvoudig te kunnen bellen. Also, Xchange Operator can be configured to provide dialling directly from many web-based CRM packages.
Voor meer informatie over ondersteunde browsers klik hier
---
Klembord Bellen
Iedere keer dat u een geldig telefoonnummer kopieert nar het klembord, zal een schermmelding verschijnen die, als er op wordt geklikt, dat nummer zal oproepen.
---
Maatwerk Bellen
Xchange Operator allows developers to add dialing support directly from their applications.
Instructies worden verstrekt binnen de software.
Alternatively, Xchange Operator can often be configured to work with existing applications to save any development work. Zie "Applicatie Bellen" "voor meer details."
---
Toepassing Bellen
Xchange Operator supports several methods of dialing from applications.
In veel applicaties kan een functie worden aangezet om rechtstreeks te bellen vanuit de applicatie.
---
Focus nummerkiezen
Focus oproepen zal automatisch velden herkennen die nummers, die kunnen worden gebeld, herkent en zal een klikken-om-op-te-roepen optie tonen aan de rechterkant van het veld.
Als het toepassingsveld meer dan een potentieel telefoonnummer bevat, zal een keuzemenu verschijnen wanneer u met de muis over het klik-om-op-te-roepen veld icoon beweegt, waardoor u het nummer kan selecteren om op te kiezen.
---
TAPI Bellen
Als u eenmaal de TAPI hebt ingeschakeld en uw TAPi compatibel CRM toepassing hebt gegonfigureerd, bent u in staat om direct uit de CRM toepassing telefoonnummers te kiezen.
Screen popping allows a CRM contact record associated with an inbound caller's number to be opened simply by clicking an icon shown in the preview window.
Dit kan worden geconfigureerd om automatisch uit te klappen indien gewenst.
Automatische Weergave
De tab "Auto" zal automatisch de sectie "Recent" vullen met een lijst toestellen die zijn toegewezen aan dezelfde afdeling als het gebelde toestel. The Auto tab will also show caller preview data for any integrated CRM/DB application and a customized greeting linked to the dialled DID number.
Selecteer een gewenste wijze van bediening, van eenvoudige muis bediening tot toetsenbord bediening. Xchange Operator also has a special mode for touch screen operation.
Xchange Operator allows a greeting script and notes to be associated with the dialed number.* This information can be retrieved from any database listed under the Integrations option in the Configuration menu.
---
"Aanwezigheid" Weergave
Gebruik de wallboard weergave om te controleren of collega's beschikbaar zijn om een gesprek aan te nemen, in gesprek zijn, op Niet Storen staan of dat een doorschakeling is ingesteld.
Set up personal Presence tabs and configure Xchange Operator to present the tab when a call to a selected DID number is received.
Het adresboek biedt een eenvoudige manier om contacten te creëren.
Gebruikers kunnen zoeken naar bestaande contacten of eenvoudig nieuwe maken, terwijl men aan de telefoon zit. Het adresboek wordt uitgebreid met CRM contacten indien een integratie wordt gebruikt.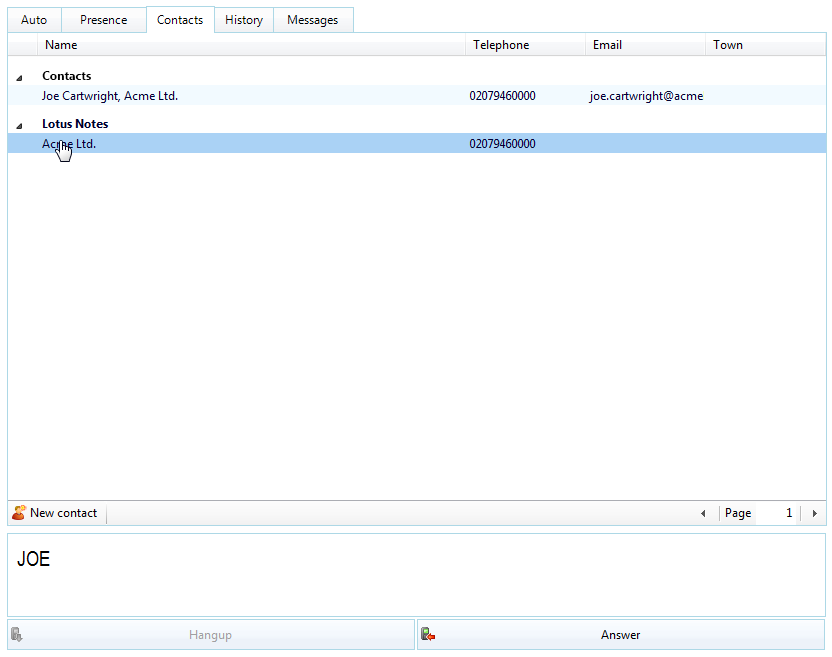 Het gesprekshistorie venster bevat een lijst met recente gesprekken van de toestel gebruiker.
Gebruikers kunnen rechtstreeks vanuit het gesprekshistorie venster bellen.
De video toont het gebruik van het gesprekshistorie venster.
Two areas of Skype for Business integration are available through the Xchange Operator client when installed on a PC that is also running the Skype for Business client.
Although call control is still done through the Xchange Operator client, the Skype for Business user can make calls to other Skype for Business users using the "Call using deskphone" option that is inserted in to the standard Skype for Business menu by Xchange Operator. If "Update Skype for Business state when on a call" is checked in the Xchange Operator client configuration, the Skype for Business client's status will be automatically set to "in a call" when the handset makes or receives a call, or "do not disturb" when the handset goes to DND.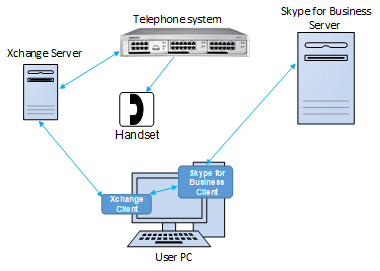 Technical Functionalities
Xchange Operator Client

Infrastructure
Architecture
Xchange Operator client is installed on the end user PC which makes a connection to the Skype for Business client installed on the same PC.
Licenses required (for each user who requires the functionality)
Any Skype for Business CAL
Any Xchange Operator PC client
Skype for Business environments supported
Please click here
Call Control
Answer handset
From Xchange Operator Preview (pop-up) window
Call Forward handset
From Xchange Operator client
Transfer call
From Xchange Operator client
Make call
From Skype for Business client or Xchange Operator client
Status update
Skype for Business Client

-

"In a call"
When the handset makes or receives a call
Skype for Business Client

-

"Do not disturb"
When the handset goes to DND
Externe LED
Xchange Operator integrates with Kuando Busylight and Embrava Blynclight so now everyone in the office can see if a colleague is available for a conversation, busy on the phone or simply does not want to be disturbed.
Xchange
Beschikbaar (niet in gesprek)
In de wacht
Bezet (in gesprek/online vergadering)
Bellen
Niet storen / Doorverbinden
Voicemail
Externe LED Kleur
Groen
Snel knipperend geel (250ms)
Rood
Flitsend rood (500ms)
Blauw
Langzaam flitsend magenta (1000ms)
Click here for more information on Kuando Busylight
Click here for more information on Embrava Blynclight