Hacer llamadas
Making calls from your computer is straightforward with Xchange Operator. It will increase your productivity by saving you time and reducing the number of misdialled numbers.
---
Recibiendo llamadas
Xchange Operator can be used to tell you who is calling before you answer the phone. Esto puede resultar beneficioso en muchas maneras.
Cuando usted está ocupado trabajando en un proyecto usted podrá permitir la selección de las llamadas a responder. También, este permite saludar a la persona que llama de una manera más personal. Al recibir una llamada, es realmente fácil almacenar el nombre de la persona que llama y así sera identificado en futuro. También con la integración CRM, los detalles de los contactos son buscados y mostrados rápidamente.
---
Transfiriendo llamadas
Xchange Operator provides an easy method to transfer calls. A través de la ventana de Presencia se permite a los usuarios ver la disponibilidad de sus colegas y tomar decisiones inteligentes en la transferencia de llamadas.
Los usuarios pueden realizar una transferencia inmediata para distribuir rápidamente las llamadas. Or they can easily use Go Integrator to consult with colleagues and switch between calls.
Marcación desde páginas Web
Xchange Operator supports two separate ways of dialling from web pages.
Las páginas web pueden ser escaneadas en busca de números de teléfono válidos, cuando lo encuentra son convertidos en hipervínculos para hacer marcar fácilmente. Also, Xchange Operator can be configured to provide dialling directly from many web-based CRM packages.
Para obtener más información sobre los navegadores compatibles, haga clic aquí
---
Marcación desde el Portapapeles
Cada vez que copie un número de teléfono válido en el portapapeles, aparecerá una notificación de Windows que al seleccionar, marcará el número.
---
Marcación desde aplicaciones a la medida
Xchange Operator allows developers to add dialing support directly from their applications.
Las instrucciones se encuentran en el software.
Alternatively, Xchange Operator can often be configured to work with existing applications to save any development work. Ver, "Marcación desde aplicaciones" "para más detalles."
---
Marcación desde aplicación
Xchange Operator supports several methods of dialing from applications.
Muchas aplicaciones se pueden habilitar para permitir la marcación directamente desde la aplicación.
---
Marcación intuitiva
La marcación intuitiva detectará automáticamente los campos que contienen posibles números y presentará una opción de clic a la derecha del campo para marcar.
Si el campo de la aplicación contiene más de un posible número de teléfono, se mostrará una lista desplegable al pasar el cursor sobre el icono de marcación, lo que permite seleccionar el número que desea marcar.
---
Marcación TAPI
Una vez que haya habilitado TAPI y configurado su aplicación de CRM compatible con TAPI, podrá marcar números de teléfono directamente desde la aplicación de CRM.
Screen popping allows a CRM contact record associated with an inbound caller's number to be opened simply by clicking an icon shown in the preview window.
Esto se puede configurar para emerger automáticamente si lo prefiere.
Ver "Auto"
La pestaña "Auto" rellenará automáticamente la sección "Llamadas Recientes" con una lista de extensiones que han sido asignadas al mismo departamento que la extensión llamada. The Auto tab will also show caller preview data for any integrated CRM/DB application and a customized greeting linked to the dialled DID number.
Seleccionar un modo de funcionamiento preferido de ratón impulsado a los controles de teclado estándar. Xchange Operator also has a special mode for touch screen operation.
Xchange Operator allows a greeting script and notes to be associated with the dialed number.* This information can be retrieved from any database listed under the Integrations option in the Configuration menu.
---
Vista de "Presencia"
Utilice una vista tipo de pantalla completa y así comprobar si sus compañeros de trabajo están disponibles para atender una llamada, si se encuentran en una llamada, si se están en el estado de NM o si el desvío de llamadas se ha establecido.
Set up personal Presence tabs and configure Xchange Operator to present the tab when a call to a selected DID number is received.
La Libreta de Direcciones proporciona una manera fácil de crear contactos.
Los usuarios pueden buscar contactos existentes o crear otros nuevos con facilidad, mientras se encuentra en el teléfono. La libreta de direcciones se extiende para incluir los contactos CRM cuando se utiliza la integración.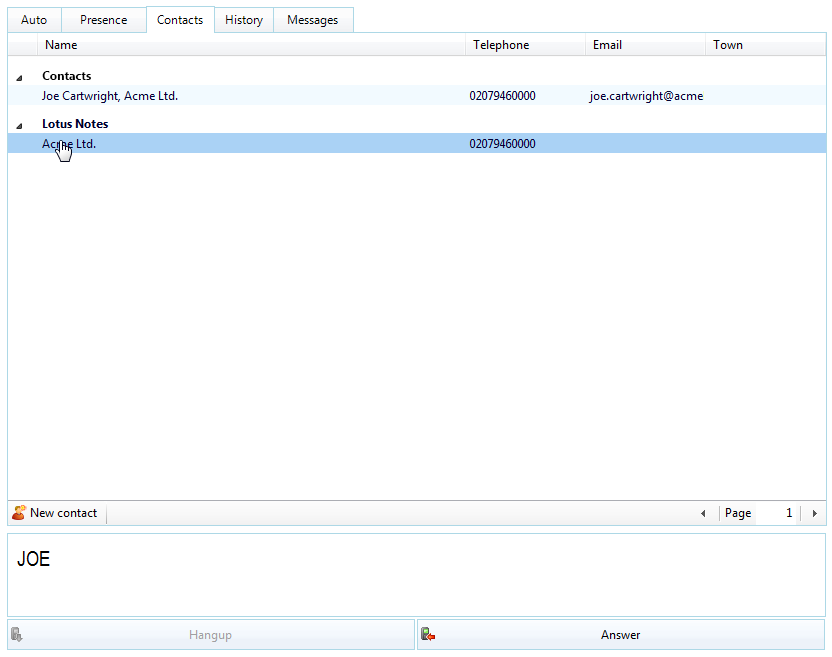 La ventana de Historial de llamadas contiene una lista de las últimas llamadas de una extensión de usuario.
Los usuarios pueden realizar llamadas directamente desde la ventana del historial de llamadas.
El vídeo la ventana de Historial de de llamadas siendo utilizada.
Two areas of Skype for Business integration are available through the Xchange Operator client when installed on a PC that is also running the Skype for Business client.
Although call control is still done through the Xchange Operator client, the Skype for Business user can make calls to other Skype for Business users using the "Call using deskphone" option that is inserted in to the standard Skype for Business menu by Xchange Operator. If "Update Skype for Business state when on a call" is checked in the Xchange Operator client configuration, the Skype for Business client's status will be automatically set to "in a call" when the handset makes or receives a call, or "do not disturb" when the handset goes to DND.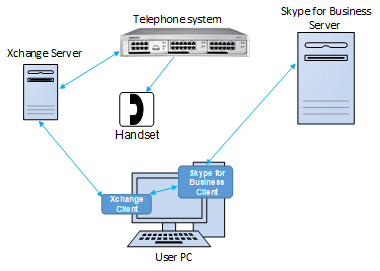 Technical Functionalities
Xchange Operator Client

Infrastructure
Architecture
Xchange Operator client is installed on the end user PC which makes a connection to the Skype for Business client installed on the same PC.
Licenses required (for each user who requires the functionality)
Any Skype for Business CAL
Any Xchange Operator PC client
Skype for Business environments supported
Please click here
Call Control
Answer handset
From Xchange Operator Preview (pop-up) window
Call Forward handset
From Xchange Operator client
Transfer call
From Xchange Operator client
Make call
From Skype for Business client or Xchange Operator client
Status update
Skype for Business Client

-

"In a call"
When the handset makes or receives a call
Skype for Business Client

-

"Do not disturb"
When the handset goes to DND
Busylight
Xchange Operator integrates with Busylight so now everyone in the office can see if a colleague is available for a conversation, busy on the phone or simply does not want to be disturbed.
Xchange
Disponible (no en una llamada)
Retenido
Ocupado (en una llamada/reunión en línea)
Llamada entrante
Do Not Disturb / Foward
Correo de Voz
color de Busylight
Verde
Fast flash yellow (250ms)
Rojo
Rojo parpadeando(500 ms)
Azul
Slow flash magenta (1000ms)
Haga clic aquí para obtener más información acerca de Busylight